Chairman: Mark Bayliss
Vice Chairman: Mark Lewis
Treasurer: Brad O'Reilly
Committee:
Murray Cross, Jay Woolhead, Mark Warren, Mark Wright, Tracey Cowan, Sherriden Mackenzie
LIFE MEMBERS
P. J. Battle, C. M. Anderson, R.W. Price, J.J. Enright, C.A. Chadwick
CEO/Racing Manager: Alex Doble
Track & Grounds Manager: David Kershaw
Administration: Melissa Allen
Race Day Operations Manager: Caitlin Waterhouse
Bunbury Turf Club offers race-goers a wide range of excellent racing facilities with choices of catering outlets, air-conditioned indoor lounges and bars or outdoor shaded areas… all with great views of the racing action!
BTC Facilities:
Cronin's Corner – quick, easy food options located near the horse stalls
Main Bar – in the thick of the action!
Winning Post Bar – close to the track (and bookies ring!)
Trackside Takeaway – takeaway options for those in a rush.
Legends Cafe – sit down dining and pizza bar available for an enjoyable lunch!
Flanagan's Bar – with its own bar and grandstand, Flanagan's is great for a race day function!
BTC Member Facilities:
Rogan Josh Members' Deck
Heron Bridge Members' Area
Additional Facilities:
Coffee machine in Legends Cafe
On course ATM (Winning Post Bar)
ACROD Parking and Amenities
Men's and Women's Restrooms with baby changing facility (under Flanagan's Grandstand)
The Bunbury Turf Club boasts excellent racing and training facilities and is host to more than 70 registered Bunbury Trainers.
The BTC is a year round training complex with both fast-work and slow-work sand and grass tracks.
Many of this states champions have been trained at the Bunbury Turf Club, including the 1999 Melbourne Cup winner Rogan Josh.
The BTC provides trainers access to:
130 Under Cover Stalls
4 Wash Down Bays
Horse Scales
Race Day Office
Trainers Only Men's and Women's Rest Rooms
Vet Rooms
Float Parking
Onsite First Aid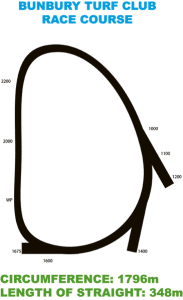 Racing at the Bunbury Turf Club returns in November, please scroll down to see our current employment opportunities.
Commencing November 2020, to work the coming race season, the Bunbury Turf Club is seeking casual Tote Operator's to join our team.  Applicants must meet the following criteria:
RWWA Compliance Certification
Must have previous Cash Handling experience
Must be able to cope in a busy, fast paced environment
Provide excellent customer service
Be of smart and tidy appearance
Gaming /tote experience preferred
If you are good with numbers, love working with people and have a friendly personality then we would love to hear from you. To join the team, email your resume indicating which race dates you are available, to Richard Grieve, Tote Manager, at caitlin@bunburyturfclub.com.au
Commencing August 2018, to work the coming race season, the Bunbury Turf Club is seeking casual Bar Attendants to join our team.   Applicants must meet the following criteria:
Must have previous Bar experience
Cash handling experience
Hold a current RSA certificate (please advise if you hold a Bar Managers License)
Must be able to cope in a busy, fast paced environment
Provide excellent customer service
Be of smart and tidy appearance (white collar shirt, black skirt knee length or trousers, closed in black shoes, no singlet's)
If you love serving the public and have a friendly personality and would like to join the team, then email your resume indicating which race dates you are available, to Caitlin Waterhouse, Functions Coordinator, at caitlin@bunburyturfclub.com.au